Aerial wedding photography has begun to grace many photo albums as more wedding photographers and soon-to-be newlyweds are using a drone to capture their big day. In the not-so-distant past, aerial wedding photography was reserved for exclusive sets with complicated setups. Now, DJI drones are the new stars of the wedding season, offering professional imaging capabilities, Intelligent Flight Modes, and ease of use to wedding photographers across the globe.
From once-in-a-lifetime venues to beautiful aerial narratives, the creative possibilities for wedding drone operators are endless. With soon-to-be newlyweds searching for a stunning aerial perspective for their wedding album, we give you the perfect marriage of tips to produce breathtaking aerial wedding photography.
1. Check Flying Rules and Regulations
Before you begin, it is vital that you research your local drone laws and regulations. You are not permitted to fly a drone near any sensitive locations such as national parks, power plants, and military bases. Please get permission from the venue management and abide by your local drone laws. This includes respecting the privacy around wedding venues and being aware of your surroundings. For more information regarding local drone laws and regulations, click here.
2. Preflight Preparation 
It takes time to set up the perfect wedding shots. Not only do you need to balance your shooting schedule within the constraints of a busy wedding day, but you also need to identify your flight paths. We highly recommend completing a preflight checklist and taking the necessary precautions and brushing up on your essential drone knowledge. An extra pair of batteries gives you more opportunity to capture the special moments of the day.
3. Capture the Couple
Let's focus on the most important people of the day – the wedding couple. Capturing intimate moments from the air is perhaps more challenging than shooting close-up portraits, and will require some careful planning for each photo. During, or even before the wedding, explore the venue and find some inspirational shooting locations. Gardens, meadows, and beaches provide a stunning subject matter for aerial images. Try and utilize the surroundings as props to shape your narrative. For example, this drone image leads us to the couple and highlights the unique features of their wedding venue.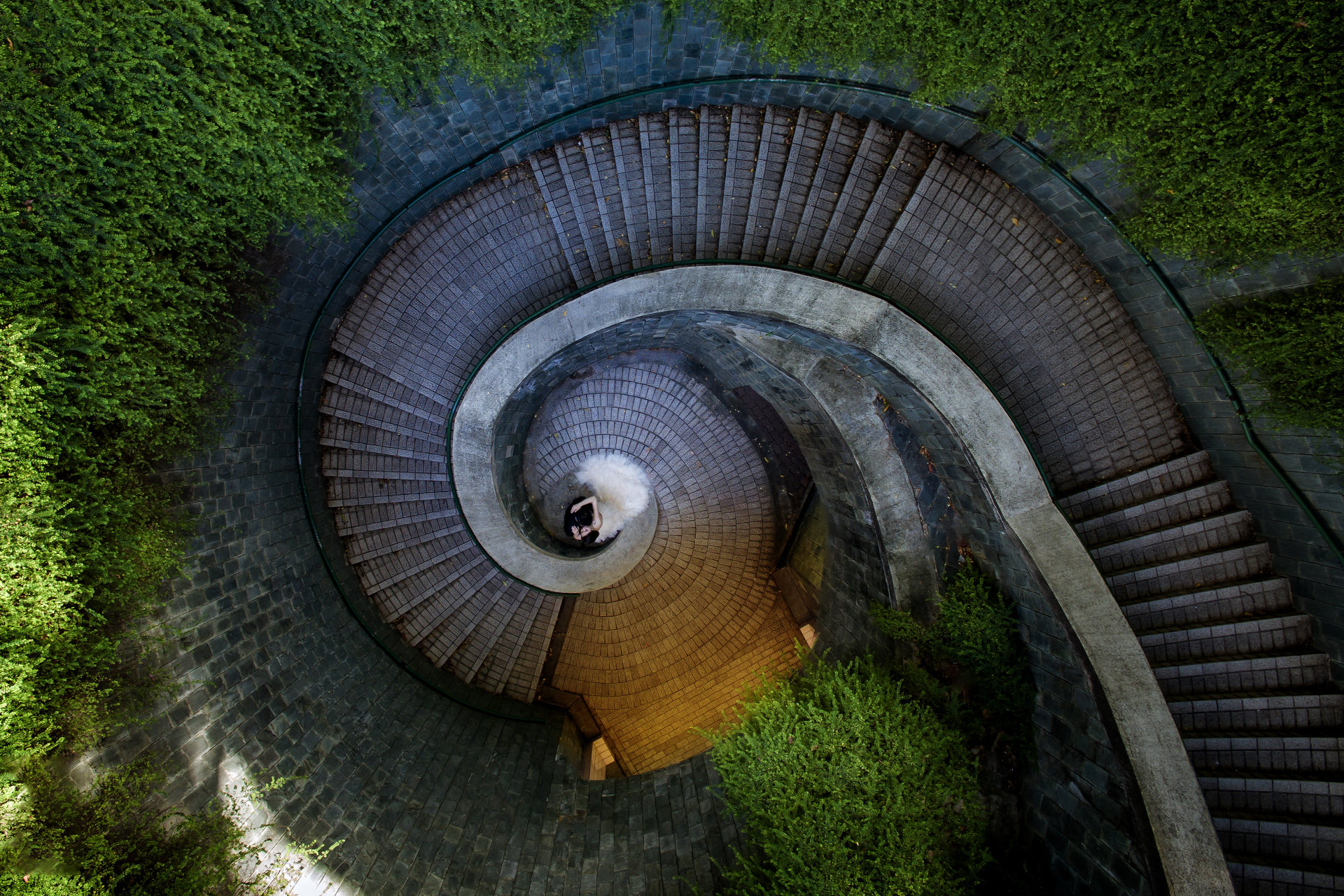 Don't be afraid to experiment with poses and the image composition when capturing drone wedding photos. Look for creative angles when the newlyweds are holding hands, looking into each other's eyes, or even interacting with their guests.
Divine Creation ©SkyPixel User | Equipment: Mavic Pro
4. Reveal the Location
Wedding venues are some of the most stunning and inspiring locations to shoot. With historical churches, rolling countryside hills, white sandy beaches, and grand country manors making up the list, everyone wants to take advantage of these stunning backdrops. Capturing the scene from a distance will provide an interesting juxtaposition of the newlyweds and the venue.
5. Harness Nature
From the gentle break of waves to trees swaying in the wind, Nature provides you with boundless creative inspiration. By placing the wedding couple against a vast background, a drone photographer can create a strong emotion of intimacy. This technique is often used by the wedding photographer Helene Havard, who shares, "I want [the couple] to be surrounded by Nature. I want to show how isolated they are in this moment."
6. Gather the Guests
Although the newlyweds are the stars of the day, taking photos of the wedding party is a great way to capture some unique memories. This can also offer the guests some fun, interactive moments to remember! Please abide by local drone laws and regulations when taking these images. Try experimenting with aerial images by making shapes out of people, as shown below by SkyPixel Photographer, Johann Pidoux.
Wedding heart ©Johann Pidoux | Equipment: Phantom 3 Professional
7. Unique Traditions
By flying safely and abiding by your local drone laws and regulations, you can use a drone to capture the finer details of the special day.
Me quiero casar ©Daniel Nieto,(DRON AZUL) | Equipment: Mavic Pro
There are hundreds of unique wedding scenes and different cultural traditions waiting to be captured from an aerial perspective, such as this traditional Bulgarian wedding photo taken by SkyPixel Photographer, Milen Cvetanov.
Traditional Bulgarian wedding ©Milen Cvetanov | Equipment: Mavic Pro
8. Camera Angles and Settings
To add a touch of creativity to your aerial wedding photography, try adjusting the camera settings and use different photo modes. For example, the slow shutter speed in this photo emphasizes the movement of the water and draws our attention to the bride in the image.
Eternal bride ©SkyPixel User | Equipment: Mavic Pro
Fly at different altitudes, experiment with camera settings, and discover your creative canvas. In the image below, the shutter speed was increased to create a beautiful wedding dress made from waves.
DRESS WAVE WEDIF Art ©Sungjoo Son
Conclusion
Remember that safety is the priority when operating a drone, and you should be especially vigilant at weddings or events. Remember to check local drone regulations and confirm your plans with the venue management. Also, please remember that it won't be possible to fly the drone in bad weather conditions such as heavy rain or strong wind. Always complete a preflight checklist and take extra care when flying close to people.
Don't forget to share your aerial wedding photography on SkyPixel and the Official DJI Owners Facebook group!